Variable Data Labels
Adhesa Plate manufactures custom labels with serial numbers, barcodes, and QR codes. Material options includes foil, aluminum, polycarbonate, polyester, vinyl, and paper with or without adhesive back. Our UL AdhesaTherm roll labels have been evaluated by UL for additional printing by end user using thermal transfer printer with resin ribbon.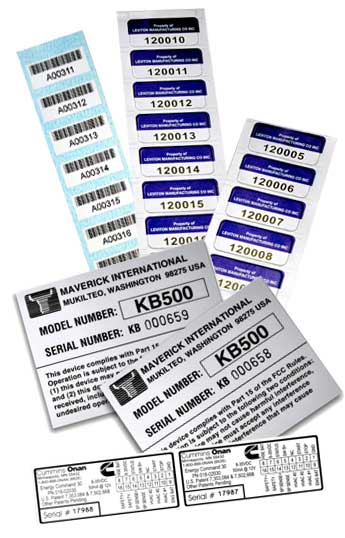 < Foil Asset Labels
3 mil aluminum
UV inkjet print & number
Die cut standard size
Kiss-cut labels supplied on sheets
< Serial Barcode Labels
Thermal transfer digital printing & digital plotter cut offers custom sequence and size at no extra charge.
< FCC Model & Serial Number Labels
2 mil matte silver polyester (AdhesaFlex-PSe)
< Roll Labels
Sequential serial numbered labels
Kiss-cut supplied on rolls of 500
Contact Us:
Phone: 206.682.0141  |  Toll Free: 1.800.634.9701
Fax: 206.682.4810 | E-mail: sales@adhesaplate.com
Location: 4000 7th Avenue South, Seattle, WA 98108