The need for adequate labeling exists across all industries as labeling is the key to communicating the proper usages of equipment. However, some industries require that labeling meet certain standards for safety reasons. Labeling in the energy device manufacturing industry require special UL 969 certified labels according to the UL Standards requirements in the U.S.
Scope of Requirements for Marking and Labeling Systems under UL 969
Adhesive identification labels used as nameplates, markers, or with graphic overlays displaying information or instructions should comply to UL 969 standards. Under these requirements, adhesives must be pressure-sensitive. The UL 969 standards for adhesive labels cover the raw materials, the adhesive and the ink and printing processes used for the creation of polyester labels and graphic overlays. They should also be heat or solvent resistant and adhere to a variety of different surfaces.
Different types of labels by Adhesa Plate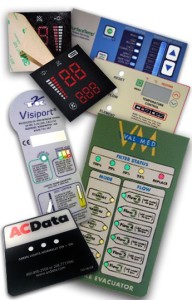 Adhesa Plate offers UL 969 certified labels for all associated applications. Our products meet the UL 969 standards that apply to energy device manufacturing.
Whether you require warning labels, basic instructions, or a description of specifications, Adhesa Plate can meet your needs. We offer a wide variety of adhesive labels and graphic overlays to get your message across.
Adhesa Plate manufactures a wide variety of UL 969 certified labels under the categories of agency labels, equipment labels, LED/deadfront graphic overlays, clear labels, barcode labels, and many more. You also can choose from a wide range of materials. Adhesive backed labels from Adhesa Plate come in polycarbonate (Lexan), polyester (Mylar), vinyl, and metallic (foil) materials.
Our Labeling Capabilities
Here at Adhesa Plate, we produce UL 969 certified labels with the latest technologies: UV inkjet printing, serializing and barcoding, laminations, laser cutting, plotter cutting, and embossing.
All of these components come together to create a durable product, which not only meets the UL 969 standards, but also satisfies your individual requirements. Our highly skilled art department ensures accurate artwork, producing detailed art proofs in 24-48 hours. They also provide guidance on how to submit your artwork, from both a technical and aesthetic viewpoint with the UL Label Center.
Our Label Certifications
Adhesa Plate is certified by Underwriters Laboratory (UL), Registration, Evaluation, Authorization and Restriction of Chemical within the EU (REACH) and RoHS. We also adhere to the Conflict Minerals Law, and have a whole range of MIL specs for our nameplates.
Our labeling certifications are what sets us apart from our competition. Our strict adherence to labeling certification guidelines ensures that no matter what industry you serve, you can trust us to produce an extremely durable and long lasting labeling solution.
http://miyclients1.com/adhesaplate/wp-content/uploads/2014/09/logo-white.png
0
0
AdhesaPlate
http://miyclients1.com/adhesaplate/wp-content/uploads/2014/09/logo-white.png
AdhesaPlate
2015-06-08 06:26:17
2015-06-08 08:40:43
Labels for Energy Device Manufacturing