In celebration of our upcoming 62nd anniversary, we are excited to announce the launch of our new website. The new AdhesaPlate.com is designed with simplicity in mind. The site layout offers a quick visual of our many products, materials, services and printing certifications.
Labeling Certifications

Our customers come from a variety of manufacturing industries, electronic devices, energy, industrial and medical devices that are strictly governed by environmental rules and regulations. Any violation of those rules can result in fines or even shutdowns.
Our certification section is there so that you can rest assured our label processes and materials are up to date and that we have a variety of label types that are in compliance to produce RoHS certified labels.
Adhesa Plate also has a variety of UL tested labels to 969 standards. These labels are most often required where safety issues are a concern. Because most of our labels are certified, even if you are not required to buy a UL certified label, you will be receiving one.
Our Capabilities
We have achieved our success over the years by consistently incorporating new technology and tactics to stay competitive and on the cutting edge of label production. Our capabilities page displays the extensive amount of processes used to make our high-quality labels such as digital inkjet printing and cutting, laminating, urethane dome coating, steel rule die cutting, serializing-variable data, color matching and more.
With every product, we want to keep our customers unique needs in mind by creating cost-efficient solutions for their custom adhesive labels, graphic overlays, dome labels, UL labels and other adhesive backed products. That's why we offer a nearly endless range of combinations when it comes to producing and manufacturing our labels. This section allows you to view a detailed description of each available process, and discuss intelligently the processes that best suit your needs.
Labeling Materials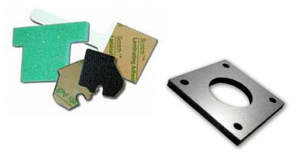 Our materials section presents the options for all labels, graphic overlays, and nameplates. Customers can choose from polycarbonate, polyester, vinyl and metallic material, with creative options for adhesives, films, and foams as well.
Clicking on the name of a material reveals a specific breakdown of that material's qualities. For each option, we have included a list of possible uses for that type of label. The description also includes helpful information such as temperature resistance levels, scratch resistant properties, indoor or outdoor qualities and production recommendations.
With customization in mind, each material page includes a list of options concerning the thickness, colors and finishes available for the production of new labels.
Our Products
Customers can browse through our wide variety of labels, dome labels, nameplates and graphic overlays on our new products page. Each product type is displayed alongside sample photographs of that option, providing a visual example of the types of labels that are produced under this category.
For a list of specifications and details, customers can simply click on the name of the product. This view allows for a comprehensive look at all of the most important features of that product type. Customers can instantly learn the standout specifications of each product along with material options, industry certifications, and production capabilities.
If a customer wants even more details, the 'Get a Quote' button found at the bottom of the page provides an easy way of contacting one of our qualified Label Experts.
Blog
Our blog section provides helpful answers to common questions within our industry. Customers can find posts on what kinds of products require labels, what types of label to choose and what the best method of production might be.
In addition, we also keep our customers up to date with our latest product offerings and relevant industry news. This page primarily serves as a way to educate and inform our customers on what labels they might need and how we can be of help.
AdhesaPlate.com
Choosing the right label can be a complicated process. The new Adhesa Plate website makes it simple by providing an intuitive and easy-to-use interface for browsing, selecting and shopping for all your label and nameplate needs. To get started on your order call 1.800.634.9701 or email us at sales@adhesaplate.com.
http://miyclients1.com/adhesaplate/wp-content/uploads/2014/09/logo-white.png
0
0
AdhesaPlate
http://miyclients1.com/adhesaplate/wp-content/uploads/2014/09/logo-white.png
AdhesaPlate
2015-04-02 05:19:18
2015-04-02 05:41:21
New AdhesaPlate.com Website Launch