Custom Application
Adhesa Plate Mfg has the capabilities to print directly on top of 1/4″ thick metal cases, create colorful multiple-layered acrylic templates, eye-catching plastic special event tickets, and much other unique custom application.
Combination of our digital and traditional printing and cutting methods allow us to offer much creative solution to our customers with fast turnaround time and low set up cost.
Our customers can always count on us for exceptional customer service when they need help with their custom application.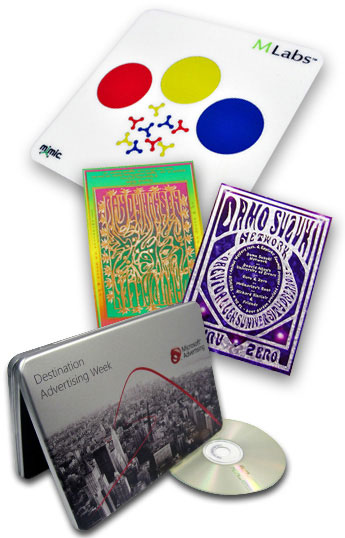 < Medical Training Templates
Fabricated with multiple layers of acrylic.
Digital inkjet & screen printed.
Digital laser cut internal shapes and die cut perimeter.
< Special Event Tickets
Subsurface printed on 10 mil 8010 clear polycarbonate
Digital inkjet printed images
Screen printed metallic silver ink on background
< Metal Case Covers
Customer supplied DVD containers
Digital inkjet printed directly on cover
Contact Us:
Phone: 206.682.0141  |  Toll Free: 1.800.634.9701
Fax: 206.682.4810 | E-mail: sales@adhesaplate.com
Location: 4000 7th Avenue South, Seattle, WA 98108