Graphic overlays are used across all industries that require a custom control instruction for machine or device operators. From medical devices seen in patient rooms to monitor vitals, to industrial machinery, a graphic overlay has been employed to identify the inner workings of the machine and to help instruct the proper interface with the machine.
Planning Your Graphic Overlay

As mentioned graphic overlays are adaptable to just about any industry, so deciding what is the best option for your application can be overwhelming. That's what we are here for. Our planning process starts with questions that help guide you to the perfect product.
To begin we define the application for your graphic overlay, what environment will it be used in, will it be used every day and how often will it be used. These factors guide us to the best material to use when manufacturing your graphic overlay.
If you need chemically resistant graphic overlays for your product, contact us today for high quality chemical resistance built to withstand even the toughest conditions.
The materials used can range from high grade polyesters or polycarbonates. The finish can range from high gloss, matte or matte texture. There can even be gloss or matte hard coating to add extra protection from scratching. Adhesa Plate can even print a textured finish on a factory gloss finish to minimize glare or scratching and still leave a LCD display window clear and legible. We offer many options to help meet all your graphic overlay needs and budget.
Custom Graphic Overlays
When laying out the design of your overlay we take into consideration the user experience and the function of the overlay for ease of use.
We offer a mix of clear and colored transparent windows and the combination of smooth and textured finishes. We also can create embossed (raised) key pads, as well as internal cut-outs.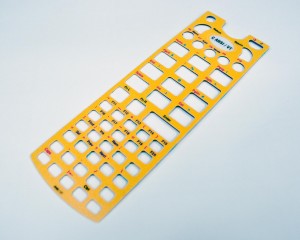 Graphics can also be a combination of digital and screen print, UV inkjet print for details and multiple colors
Graphic Overlay Experts
At Adhesa Plate we can customize the best quality graphic overlays with the highest quality standards and certifications. We produce graphic overlays for medical, industrials and energy fields. Our graphic overlay options range from economical and low-impact vinyl to indoor/outdoor Lexan.
Our team is trained to produce top quality graphic overlays that are produced to withstand everyday use. If you are not sure what kind of material is best for your application, we can recommend what is best for your uses. Please do not hesitate to call us through the quoting and planning process.
http://miyclients1.com/adhesaplate/wp-content/uploads/2014/09/logo-white.png
0
0
AdhesaPlate
http://miyclients1.com/adhesaplate/wp-content/uploads/2014/09/logo-white.png
AdhesaPlate
2015-07-13 05:54:10
2015-07-13 09:00:23
Graphic Overlays Adhesive Labels