About Us
How is Adhesa Plate Mfg different?
In the 50+ years in business, Adhesa Plate has always focused on supporting companies with low-volume / high mix label needs. This business module supports big companies with wide variety of products, and also big companies wanting "just in time" scheduled deliveries of smaller batches or prototypes. It also supports smaller or start-up companies with low volume needs.
Adhesa Plate has designed its work flow utilizing automatic and semi-automatic equipment for higher volume productions, and using computer to manufacturing (digital) equipment for lower volume and unique requirements.
As companies become more concerned of inventory levels, lower volume orders are becoming more popular. Digital manufacturing with reduced setup times has made these lower volumes more affordable. Often the digital processing can reduce or even eliminate "non-reoccurring charges" for further cost savings. Also, digital processing can produce products that conventional processing cannot, such as very fine detailed imaging (UV inkjet) or very fine detailed cutting (laser).
There are times when a label starts out as a digitally produced product, but get change over to conventional production as volume increase. Adhesa Plate has the flexibility and capability to do just that, and to offer the best pricing with the most suitable solution for your needs.
E-mail us or give us a call at 1-800-634-9701 to find out how we can help you with your unique label needs.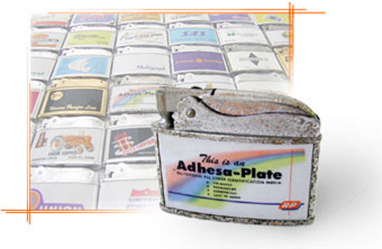 Our History:
Adhesa Plate Manufacturing was started in Seattle, Washington in 1954 by A.J. Mitchell. Adhesa Plate was originally created as a printing company which used offset presses to produce pressure sensitive foil labels. In the 1940's, aluminum foil was the first material used for labels and nameplates.
In the mid 1960's, pressure sensitive Mylar and Vinyl materials entered the product marking industry. Adhesa Plate adapted to the industry change, while continuing to use a customized offset printing method.
In 1976, A.J. Mitchell's son, Craig Mitchell, became the Vice-President of Adhesa Plate to carry on the family business. Soon after there was another change. Ultraviolet (UV) ink curing entered the industry and once again Adhesa Plate was quick to adopt this technology, continuing to make production techniques for graphic overlays the most efficient.
In the 1980's polycarbonate (lexan) made its appearance. Adhesa Plate expanded to screen printing to take advantage of this new material.
In the 1980's, computers provided the next big boost. Adhesa Plate created it's own custom estimating system to utilize the power of the computers. Today the entire company utilizes the latest computer technology from the cost estimating process, to inventory control, to our desktop publishing prepress and graphic art department.
The philosophy of quality systems emerged in 1990. Adhesa Plate realized the importance of this philosophy and began it's journey of creating a quality system and implementing integrated manufacturing. Currently the journey continues and has guided the company through two consecutive years of 30% growth. This growth allowed us to acquire a new facility.
As we entered the new millennium, we have truly entered into computer-aided manufacturing. Adhesa Plate gained the capabilities to print and cut using digitally controlled equipment. In many cases, that eliminated the need for conventional films and cutting tools once required.
Serving the Electronic Device, Industrial Equipment, Medical Device, and Transportation Equipment Manufacturing and other similar industries, Adhesa Plate has become a company very efficient in the manufacturing of custom labels, product markings, graphic overlays, insulators and shields. We expect to continuously achieve modest growth in all of these markets in future years.
E-mail us or give us a call at 1-800-634-9701. We hope to have the opportunity to add you to our list of valued customers!